BEFORE I FALL Trailer is Here
The Before I Fall movie, based on Lauren Oliver's first novel and starring Zoey Deutch, Halston Sage, and Kian Lawley is released on 3rd of March 2017. I'm so excited, I've got my box of tissues at the ready. 
If you haven't read the book yet you can reserve it here.
When a popular teen girl is killed in a car crash, she relives the critical day seven times and makes changes in an attempt to affect the outcome; in the process, she changes as she tries to make up for previous heartless, self-absorbed behavior and gains a better understanding of herself and others. As she evolves and makes the connections necessary to save a bullied, depressed girl's life, she comes to accept her own fate.
The Cast:
Samanth Kingston is played by Zoey Deutch, You might recogize her from the film adaptations of Vampire Academy and Beautiful Creatures. I predict that Zoey's career is about to take off as she was just named one of Hollywood Reporter's Rising Stars 35 and Under.
Kent is played by Logan Miller. Logan is an up and coming star and is known for his role in The Good Neighbour and of course his recurring role in The Walking Dead.
Lindsay is played by Halston Sage. She was in the Young Adult Film adaptation of Paper Towns in which she played Lacey. She was also in the Film adaptation of Goosebumps with Jack Black. She has been a busy little bee and has three films out in 2017.
Before I Fall 
by

Lauren Oliver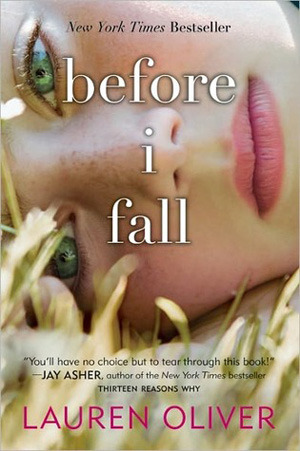 With this stunning debut novel, New York Times bestselling author Lauren Oliver emerged as one of today's foremost authors of young adult fiction. Like Jay Asher's Thirteen Reasons Why and Gayle Forman's If I Stay, Before I Fall raises thought-provoking questions about love, death, and how one person's life can affect so many others.
For popular high school senior Samantha Kingston, February 12—"Cupid Day"—should be one big party, a day of valentines and roses and the privileges that come with being at the top of the social pyramid. And it is…until she dies in a terrible accident that night.
However, she still wakes up the next morning. In fact, Sam lives the last day of her life seven times, until she realizes that by making even the slightest changes, she may hold more power than she ever imagined.
YAPS!