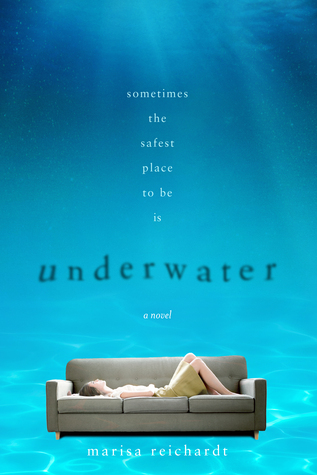 Underwater by Marisa Reichardt 
Release Date: 12/01/16
"Forgiving you will allow me to forgive myself."
Morgan didn't mean to do anything wrong that day. Actually, she meant to do something right. But her kind act inadvertently played a role in a deadly tragedy. In order to move on, Morgan must learn to forgive—first someone who did something that might be unforgivable, and then herself.
But Morgan can't move on. She can't even move beyond the front door of the apartment she shares with her mother and little brother. Morgan feels like she's underwater, unable to surface. Unable to see her friends. Unable to go to school.
When it seems Morgan can't hold her breath any longer, a new boy moves in next door. Evan reminds her of the salty ocean air and the rush she used to get from swimming. He might be just what she needs to help her reconnect with the world outside.
Underwater is a powerful, hopeful debut novel about redemption, recovery, and finding the strength it takes to face your past and move on.
Review:
Underwater is the story of Morgan, a high school student who hasn't forgiven herself for the role she thinks she played in a horrible tragedy.  But when Evan moves in next door and reminds Morgan of everything she used to love, she starts to wonder if she's capable of living again and letting go of her debilitating fear.
This is one of those books that has the ability to make you cry one minute and Laugh in the next.
So well written I couldn't put it down and made me think about even just last year alone the amount of school shootings in America. The many students that could well be going through similar Situations. I think that this book will do very well and look forward to reading the next book  Marisa Reichardt  releases.
About Author:
Marisa Reichardt is a SoCal native and former high school writing instructor. She has a Master of Professional Writing degree from the University of Southern California and dual undergraduate degrees in literature and creative writing from UC San Diego. She spent her college years shucking oysters, waiting tables, and peddling swimwear. She has spent her post-grad years writing, tutoring, and reading. She currently lives in Los Angeles with her family, and can usually be found huddled over her laptop in coffeehouses or swimming in the ocean.