Louise O' Neill is from Clonakilty, in west Cork. She graduated with a BA in English Studies at Trinity College Dublin, Louise then went on to complete a post-grad in Fashion Buying at DIT. Louise moved to New York in 2010 to intern for Kate Lanphear, the then senior Style Director of Elle Magazine. She spent a year in New York, she returned home to Ireland to write her first novel. When she returned from NYC on September 1st, 2011, Louise made a pact with herself that she was going to have a novel written within a year, and Louise finished the first draft of 'ONLY EVER YOURS' on August 31st, 2012.
Only Ever Yours was Published on July 3rd 2014.  A phenomenal debut you do not want to miss. I was completely undone by the whole reading experience of this book. Its so well written, there's nothing better then reading a book and thinking to yourself one more chapter before I turn the light out. Then to realize an hour later your still reading and you're going to have one hell of a book hangover the next morning. 
In a world in which baby girls are no longer born naturally, women are bred in schools, trained in the arts of pleasing men until they are ready for the outside world. At graduation, the most highly rated girls become "companions", permitted to live with their husbands and breed sons until they are no longer useful.
For the girls left behind, the future – as a concubine or a teacher – is grim.
Best friends Freida and Isabel are sure they'll be chosen as companions – they are among the most highly rated girls in their year.
But as the intensity of final year takes hold, Isabel does the unthinkable and starts to put on weight. ..
And then, into this sealed female environment, the boys arrive, eager to choose a bride.
Freida must fight for her future – even if it means betraying the only friend, the only love, she has ever known. . .
They have told us that in order to succeed, we need to be good girls, we need to follow the rules, we need to look pretty and speak nicely and be pleasant. I've tried. I've waxed every last hair on my body. I have taken my pills. I have gone to bed hungry every night since I was four years old. I've done everything they have told me to do and here I am… and I don't know if it's good enough.
Louise O'Neill's second novel is called Asking For It. I'm so excited to read this book and as well as having it on pre-order, I have them ordered for the Libraries as well.
Asking for it – Release Date September 3rd 2015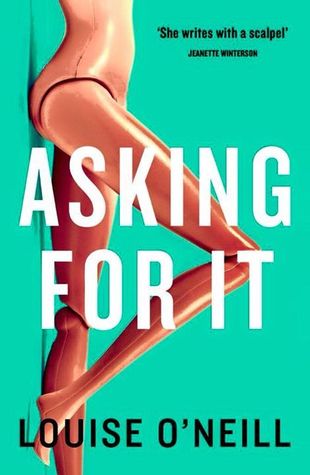 It's the beginning of the summer in a small town in Ireland. Emma O'Donovan is eighteen years old, beautiful, happy, confident. One night, there's a party. Everyone is there. All eyes are on Emma.
The next morning, she wakes on the front porch of her house. She can't remember what happened, she doesn't know how she got there. She doesn't know why she's in pain. But everyone else does.
Photographs taken at the party show, in explicit detail, what happened to Emma that night. But sometimes people don't want to believe what is right in front of them, especially when the truth concerns the town's heroes…