ICE KISSED by Amanda Hocking (Kanin Chronicles #2)
Bryn Aven has always longed to be a part of the Kanin world.
Though she has no social status because she's a half-breed, she refuses to give up on her dream of serving the kingdom she loves. It's a dream that brings her to a whole new realm . . . the glittering palace of the Skojare.
The Skojare people need protection from the same brutal rival who's been threatening the Kanin, and, being half Skojare herself, it's a chance for Bryn to learn more about her heritage. Her boss Ridley Dresden is overseeing her mission and wants to help. He's always been her most trusted friend—but as their undeniable attraction heats up, he becomes a distraction she can't afford.
Brynn is about to discover that the Skojare world is full of secrets, and as she's drawn in deeper and deeper, she doesn't know who to trust. As she gets closer to Ridley, she realizes she may not even be able to trust her own heart.
On sale May 5th
THE HEIR

by Kiera Cass
Twenty years ago, America Singer entered the Selection and won Prince Maxon's heart. Now the time has come for Princess Eadlyn to hold a Selection of her own. Eadlyn doesn't expect her Selection to be anything like her parents' fairy-tale love story. But as the competition begins, she may discover that finding her own happily ever after isn't as impossible as she always thought.
On sale May 5th
THE FILL-IN BOYFRIEND by Kasie West
When Gia Montgomery's boyfriend, Bradley, dumps her in the parking lot of her high school prom, she has to think fast. After all, she'd been telling her friends about him for months now. This was supposed to be the night she proved he existed. So when she sees a cute guy waiting to pick up his sister, she enlists his help. The task is simple: be her fill-in boyfriend— two hours, zero commitment, a few white lies. After that, she can win back the real Bradley.
The problem is that days after prom, it's not the real Bradley she's thinking about, but the stand-in. The one whose name she doesn't even know. But tracking him down doesn't mean they're done faking a relationship. Gia owes him a favor and his sister intends to see that he collects: his ex-girlfriend's graduation party — three hours, zero commitment, a few white lies.
Just when Gia begins to wonder if she could turn her fake boyfriend into a real one, Bradley comes waltzing back into her life, exposing her lie, and threatening to destroy her friendships and her new-found relationship.
On sale May 5th
SAINT ANYTHING by Sarah Dessen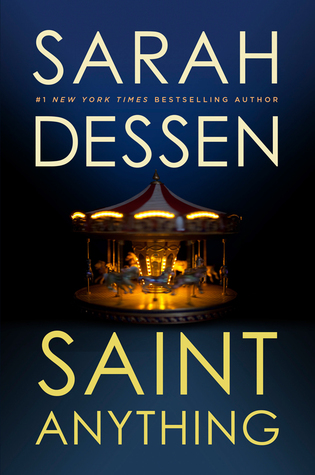 Peyton, Sydney's charismatic older brother, has always been the star of the family, receiving the lion's share of their parents' attention and—lately—concern. When Peyton's increasingly reckless behavior culminates in an accident, a drunk driving conviction, and a jail sentence, Sydney is cast adrift, searching for her place in the family and the world. When everyone else is so worried about Peyton, is she the only one concerned about the victim of the accident?
Enter the Chathams, a warm, chaotic family who run a pizza parlor, play bluegrass on weekends, and pitch in to care for their mother, who has multiple sclerosis. Here Sydney experiences unquestioning acceptance. And here she meets Mac, gentle, watchful, and protective, who makes Sydney feel seen, really seen, for the first time.
The uber-popular Sarah Dessen explores her signature themes of family, self-discovery, and change in her twelfth novel, sure to delight her legions of fans
On sale May 5th
UNTIL THE BEGINNING

by Amy Plum (Until the End #2)
When Juneau's clan disappeared, she lost so much more than her friends and family. She soon discovered everything she thought she knew about her life was a lie. Her people's gifts were actually secret abilities that others wanted, desperately enough to kidnap an entire village.
Juneau and her new companion Miles's cross-country journey to find her clan has led them to a game preserve in New Mexico. Now Juneau's people are finally within reach, and she will stop at nothing to save them. But she has a target on her back too, because unbeknownst to her she is the key to unlocking everything. To rescue her people – and herself – Juneau must discover what she, and her abilities, are truly capable of.
On sale May 5th
MAXIMUM RIDE FOREVER by James Patterson
THE NINTH AND ULTIMATE MAXIMUM RIDE STORY IS HERE!
Legions of Max fans won't be disappointed by this encore episode in the beloved series about the incredible adventures of a teenage girl who can fly. As Maximum Ride boldly navigates a post-apocalyptic world, she and her broken flock are roaming the earth, searching for answers to what happened. All will be revealed in this last spectacular "ride"- a brand-new grand finale featuring all of the nonstop action, twists and turns that readers can rely on in a blockbuster Patterson page turner!
On sale May 18th
MADE YOU UP

by Francesca Zappia
Reality, it turns out, is often not what you perceive it to be—sometimes, there really is someone out to get you. Made You Up tells the story of Alex, a high school senior unable to tell the difference between real life and delusion. This is a compelling and provoking literary debut that will appeal to fans of Wes Anderson, Silver Linings Playbook, and Liar.
Alex fights a daily battle to figure out the difference between reality and delusion. Armed with a take-no-prisoners attitude, her camera, a Magic 8-Ball, and her only ally (her little sister), Alex wages a war against her schizophrenia, determined to stay sane long enough to get into college. She's pretty optimistic about her chances until classes begin, and she runs into Miles. Didn't she imagine him? Before she knows it, Alex is making friends, going to parties, falling in love, and experiencing all the usual rites of passage for teenagers. But Alex is used to being crazy. She's not prepared for normal.
Funny, provoking, and ultimately moving, this debut novel featuring the quintessential unreliable narrator will have readers turning the pages and trying to figure out what is real and what is made up.
On sale May 19th
DANGEROUS DECEPTION by Kami Garcia, Margaret Stohl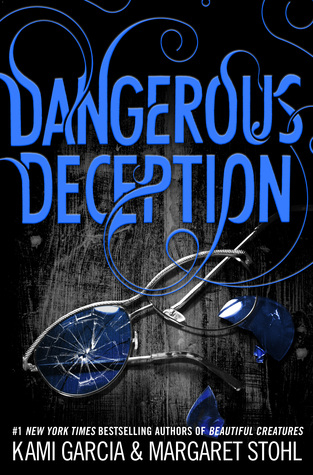 From the world of Beautiful Creatures–a dangerous new tale of love and magic continues in the sequel to Dangerous Creatures.
Love is ten kinds a crazy, right?
Let me put it to you this way: If you can get away, run. Don't walk.
Because once you're exposed, you'll never get a Siren outta your head.
Some loves are cursed. Others are…dangerous. Especially the love between wannabe rocker and quarter Incubus, Wesley "Link" Lincoln, and Dark Caster, Siren, and bonafide bad girl, Ridley Duchannes.
But now Ridley is missing, and Link was with her-right up until she vanished. Determined to find her, Link reunites with his New York bandmates and the mysterious Lennox Gates, who wants Rid for himself. Together they travel to the deep south, find the crossroads where blues guitarist Robert Johnson made his deal with the devil, discover a menagerie of Casters locked in cages, and uncover an evil in New Orleans that threatens to destroy them all.
This time, love might not be enough.
On sale May 19th
P.S. I STILL LOVE YOU by Jenny Han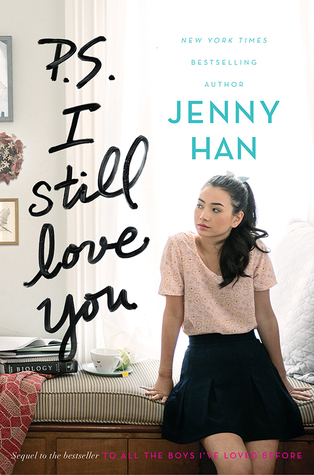 Lara Jean didn't expect to really fall for Peter.
She and Peter were just pretending. Except suddenly they weren't. Now Lara Jean is more confused than ever.
When another boy from her past returns to her life, Lara Jean's feelings for him return too. Can a girl be in love with two boys at once?
In this charming and heartfelt sequel to the New York Times bestseller To All the Boys I've Loved Before, we see first love through the eyes of the unforgettable Lara Jean. Love is never easy, but maybe that's part of what makes it so amazing.
On sale May 26th
NOWHERE BUT HERE by Katie McGarry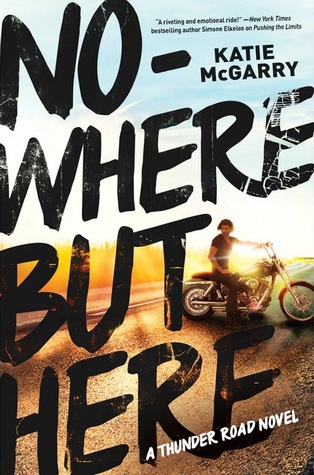 An unforgettable new series from acclaimed author Katie McGarry about taking risks, opening your heart and ending up in a place you never imagined possible.
Seventeen-year-old Emily likes her life the way it is: doting parents, good friends, good school in a safe neighborhood. Sure, she's curious about her biological father—the one who chose life in a motorcycle club, the Reign of Terror, over being a parent—but that doesn't mean she wants to be a part of his world. But when a reluctant visit turns to an extended summer vacation among relatives she never knew she had, one thing becomes clear: nothing is what it seems. Not the club, not her secret-keeping father and not Oz, a guy with suck-me-in blue eyes who can help her understand them both.
Oz wants one thing: to join the Reign of Terror. They're the good guys. They protect people. They're…family. And while Emily—the gorgeous and sheltered daughter of the club's most respected member—is in town, he's gonna prove it to her. So when her father asks him to keep her safe from a rival club with a score to settle, Oz knows it's his shot at his dream. What he doesn't count on is that Emily just might turn that dream upside down.
No one wants them to be together. But sometimes the right person is the one you least expect, and the road you fear the most is the one that leads you home.
On sale May 26th
THE CAGE

by Megan Shepherd
The Maze Runner meets Scott Westerfeld in this gripping new series about teens held captive in a human zoo by an otherworldly race. From Megan Shepherd, the acclaimed author of The Madman's Daughtertrilogy.
When Cora Mason wakes in a desert, she doesn't know where she is or who put her there. As she explores, she finds an impossible mix of environments—tundra next to desert, farm next to jungle, and a strangely empty town cobbled together from different cultures—all watched over by eerie black windows. And she isn't alone.
Four other teenagers have also been taken: a beautiful model, a tattooed smuggler, a secretive genius, and an army brat who seems to know too much about Cora's past. None of them have a clue as to what happened, and all of them have secrets. As the unlikely group struggles for leadership, they slowly start to trust each other. But when their mysterious jailer—a handsome young guard called Cassian—appears, they realize that their captivity is more terrifying than they could ever imagine: Their captors aren't from Earth. And they have taken the five teenagers for an otherworldly zoo—where the exhibits are humans.
As a forbidden attraction develops between Cora and Cassian, she realizes that her best chance of escape might be in the arms of her own jailer—though that would mean leaving the others behind. Can Cora manage to save herself and her companions? And if so . . . what world lies beyond the walls of their cage? .
On sale May 26th
TINY PRETTY THINGS

by Sona Charaipotra, Dhonielle Clayton
Black Swan meets Pretty Little Liars in this soapy, drama-packed novel featuring diverse characters who will do anything to be the prima at their elite ballet school.
Gigi, Bette, and June, three top students at an exclusive Manhattan ballet school, have seen their fair share of drama. Free-spirited new girl Gigi just wants to dance—but the very act might kill her. Privileged New Yorker Bette's desire to escape the shadow of her ballet star sister brings out a dangerous edge in her. And perfectionist June needs to land a lead role this year or her controlling mother will put an end to her dancing dreams forever. When every dancer is both friend and foe, the girls will sacrifice, manipulate, and back stab to be the best of the best.
On sale May 26th