The Lunar Chronicles is a series of five young adult fantasy novels by American author Marissa Meyer. Each book entails a new take on an old fairy tale, including Cinderella, Little Red Riding Hood, Rapunzel and Snow White. The story takes place in a futuristic world where humans, cyborgs, and androids all coexist.
Cinder
Linh Cinder (based on Cinderella), a cyborg living with her stepmother and her two stepsisters, works as a mechanic in a booth at the market place, where she meets Prince Kai, who requests her to fix his personal android. Can't shed tears or blush due to her android modifications. Thought to be immune to letumosis and has more unknown secrets. Later in the first book, Dr. Dmitri Erland states something breathtaking. Cinder is arrested later. During that time, he gives Cinder a new hand and foot and a mission, to look for him in Africa.
Cress
Crescent Moon 'Cress' Darnel (based on Rapunzel) is a banished hacker who is somehow caught up in Cinder and her crew's plot to overthrow the wicked Lunar queen. However, soon everything goes awry. The crew is separated, and they must do anything they can to reunite and prevent the royal wedding that could put Earth into Queen Levana's hands. And all the while, the plague is mutating, and Queen Levana is watching.
Winter
Winter (based on Snow White) is Queen Levana's stepdaughter. She's lived on Luna in the palace but grown up with her stepmother and seen how, when Levana uses her lunar powers, it's turned her into a heartless tyrant. Winter decided to never use her lunar gift, so she has not used her Lunar "glamour" since she was twelve. But when a lunar chooses not to use their gift, it slowly starts to drive them crazy, so Winter is afflicted with bad hallucinations, and as the book goes on, her mental state starts to slowly deteriorate. Not much else is known about this character yet, but she already seems to be friends with Scarlet at the end of Cress. The book is set to come out on November 10, 2015.
Fairest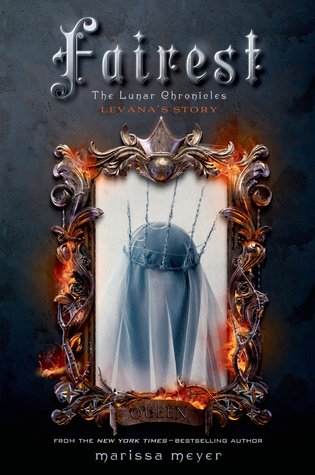 Fairest is a prequel to the other books, telling the backstory and past of Queen Levana (based on the Evil Queen from Snow White). Fairest begins when Levana is 15 years old and covers about 10 years of her life, ending about a decade before Cinder is set. Levana has grown up in a really poisonous household and has a very cruel older sister who's been mentally and physically abusive to her her whole life. After her parents have been murdered by an assassin, Levana's sister Channary is set to become Queen. Then something happens which starts Levana's downward spiral to becoming truly evil.