So new year, new awesome books. This year promises some amazing new releases from well known authors to up and coming new authors. I for one am excited!
Here's a look at some new releases for January. Don't forget you can reserves books online on our website.
The Ghosts of Heaven by Marcus Sedgwick
6th of January 
A bold, genre-bending epic that chronicles madness, obsession, and creation, from the Paleolithic era through the Witch Hunts and into the space-bound future.
Four linked stories boldly chronicle madness, obsession, and creation through the ages. Beginning with the cave-drawings of a young girl on the brink of creating the earliest form of writing, Sedgwick traverses history, plunging into the seventeenth century witch hunts and a 1920s insane asylum where a mad poet's obsession with spirals seems to be about to unhinge the world of the doctor trying to save him. Sedgwick moves beyond the boundaries of historical fiction and into the future in the book's final section, set upon a spaceship voyaging to settle another world for the first time. Merging Sedgwick's gift for suspense with science- and historical-fiction, Ghosts of Heaven is a tale is worthy of intense obsession.
Vivian Apple at the End of the World by Katie Coyle
 6th of January
Seventeen-year-old Vivian Apple never believed in the evangelical Church of America, unlike her recently devout parents. But when Vivian returns home the night after the supposed "Rapture," all that's left of her parents are two holes in the roof. Suddenly, she doesn't know who or what to believe. With her best friend Harp and a mysterious ally, Peter, Vivian embarks on a desperate cross-country roadtrip through a paranoid and panic-stricken America to find answers. Because at the end of the world, Vivan Apple isn't looking for a savior. She's looking for the truth.
There Will Be Lies by Nick Lake
6th of January
In four hours, Shelby Jane Cooper will be struck by a car.
Shortly after, she and her mother will leave the hospital and set out on a winding journey toward the Grand Canyon.
All Shelby knows is that they're running from dangers only her mother understands. And the further they travel, the more Shelby questions everything about her past—and her current reality. Forced to take advantage of the kindness of unsuspecting travelers, Shelby grapples with what's real, what isn't, and who she can trust . . . if anybody.
Award-winning author Nick Lake proves his skills as a master storyteller in this heart-pounding new novel. This emotionally charged thrill ride leads to a shocking ending that will have readers flipping back to the beginning.
All the Bright Places by Jennifer Niven
 6th of January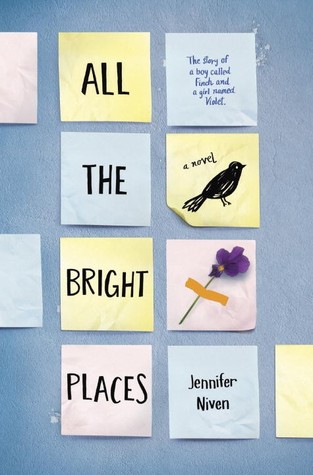 The Fault in Our Stars meets Eleanor and Park in this exhilarating and heart-wrenching love story about a girl who learns to live from a boy who intends to die.

Soon to be a major motion picture starring Elle Fanning!
Theodore Finch is fascinated by death, and he constantly thinks of ways he might kill himself. But each time, something good, no matter how small, stops him.
Violet Markey lives for the future, counting the days until graduation, when she can escape her Indiana town and her aching grief in the wake of her sister's recent death.
When Finch and Violet meet on the ledge of the bell tower at school, it's unclear who saves whom. And when they pair up on a project to discover the "natural wonders" of their state, both Finch and Violet make more important discoveries: It's only with Violet that Finch can be himself—a weird, funny, live-out-loud guy who's not such a freak after all. And it's only with Finch that Violet can forget to count away the days and start living them. But as Violet's world grows, Finch's begins to shrink.
This is an intense, gripping novel perfect for fans of Jay Asher, Rainbow Rowell, John Green, Gayle Forman, and Jenny Downham from a talented new voice in YA, Jennifer Niven
Hellhole by Gina Damico
6th of January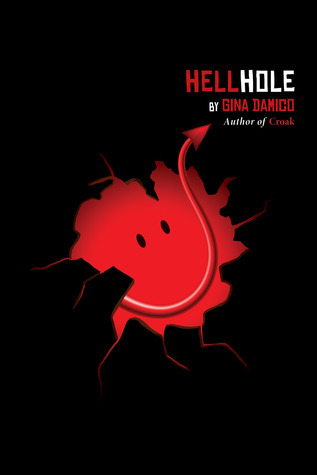 A devil is a bad influence . . .
There was a time when geeky, squeaky-clean Max Kilgore would never lie or steal or even think about murder. Then he accidentally unearths a devil, and Max's choices are no longer his own. The big red guy has a penchant for couch surfing and junk food—and you should never underestimate evil on a sugar high.
With the help of Lore, a former goth girl who knows a thing or two about the dark side, Max is racing against the clock to get rid of the houseguest from hell before time, and all the Flamin' Hot Cheetos this side of the fiery abyss, run out.
Audacity by Melanie Crowder
8th of January
The inspiring story of Clara Lemlich, whose fight for equal rights led to the largest strike by women in American history
A gorgeously told novel in verse written with intimacy and power, Audacity is inspired by the real-life story of Clara Lemlich, a spirited young woman who emigrated from Russia to New York at the turn of the twentieth century and fought tenaciously for equal rights. Bucking the norms of both her traditional Jewish family and societal conventions, Clara refuses to accept substandard working conditions in the factories on Manhattan's Lower East Side. For years, Clara devotes herself to the labor fight, speaking up for those who suffer in silence. In time, Clara convinces the women in the factories to strike, organize, and unionize, culminating in the famous Uprising of the 20,000.
Powerful, breathtaking, and inspiring, Audacity is the story of a remarkable young woman, whose passion and selfless devotion to her cause changed the world.
When by Victoria Laurie
13th of January
Maddie Fynn is a shy high school junior, cursed with an eerie intuitive ability: she sees a series of unique digits hovering above the foreheads of each person she encounters. Her earliest memories are marked by these numbers, but it takes her father's premature death for Maddie and her family to realize that these mysterious digits are actually death dates, and just like birthdays, everyone has one.Forced by her alcoholic mother to use her ability to make extra money, Maddie identifies the quickly approaching death date of one client's young son, but because her ability only allows her to see the when and not the how, she's unable to offer any more insight. When the boy goes missing on that exact date, law enforcement turns to Maddie.Soon, Maddie is entangled in a homicide investigation, and more young people disappear and are later found murdered. A suspect for the investigation, a target for the murderer, and attracting the attentions of a mysterious young admirer who may be connected to it all, Maddie's whole existence is about to be turned upside down. Can she right things before it's too late
The Conspiracy of Us by Maggie Hall
13th of January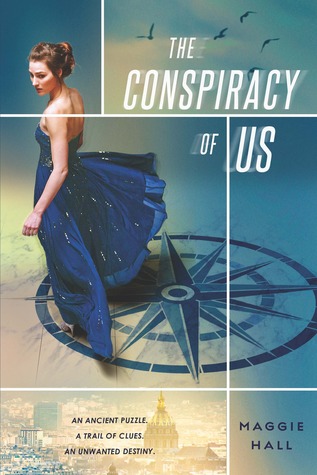 A fast-paced international escapade, laced with adrenaline, glamour, and romance–perfect for fans of Ally Carter
Avery West's newfound family can shut down Prada when they want to shop in peace, and can just as easily order a bombing when they want to start a war. Part of a powerful and dangerous secret society called the Circle, they believe Avery is the key to an ancient prophecy. Some want to use her as a pawn. Some want her dead.
To unravel the mystery putting her life in danger, Avery must follow a trail of clues from the monuments of Paris to the back alleys of Istanbul with two boys who work for the Circle—beautiful, volatile Stellan and mysterious, magnetic Jack. But as the clues expose a stunning conspiracy that might plunge the world into World War 3, she discovers that both boys are hiding secrets of their own. Now she will have to choose not only between freedom and family–but between the boy who might help her save the world, and the one she's falling in love with.
Alex as Well by Alyssa Brugman
20th of January
What do you do when everybody says you're someone you're not?
Alex wants change. Massive change. More radical than you could imagine.
Her mother is not happy, in fact she's imploding. Her dad walked out.
Alex has turned vegetarian, ditched one school, enrolled in another, thrown out her clothes. And created a new identity. An identity that changes her world.
And Alex—the other Alex—has a lot to say about it.
Alex As Well is a confronting and heartfelt story of adolescent experience—of questioning identity, discovering sexuality, navigating friendships and finding a place to belong. Alex is a strong, vulnerable, confident, shy and determined character, one you will never forget.
With the same tenderness and insight as YA stars such as John Green and David Levithan, Alyssa Brugman has crafted a knockout story about identity, sexuality and family that speaks effortlessly to a universal teen experience.
I'm Glad I Did by Cynthia Weil
27th of January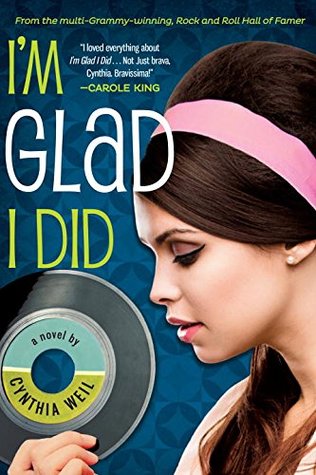 Rock and Roll Hall of Famer and songwriting legend Cynthia Weil's extraordinary YA debut opens the secretive doors of the Brill Building-the hit factory that changed history. Part Mad Men, part Grace of my Heart, part murder mystery, I'm Glad I Did is a coming-of-age story at an unforgettable cultural tipping point: the summer of 1963.JJ Greene, a gifted 16-year-old songwriter, defies her lawyer parents by secretly applying for a job in the famed Brill Building-the epicenter of songwriting for a new genre called rock-n-roll. But their warnings about the evils of the music industry prove far darker than she imagined when she finds herself at the heart of a cover-up that involves hidden identity, theft, and possibly murder.
I Was Here by Gayle Forman
27th of January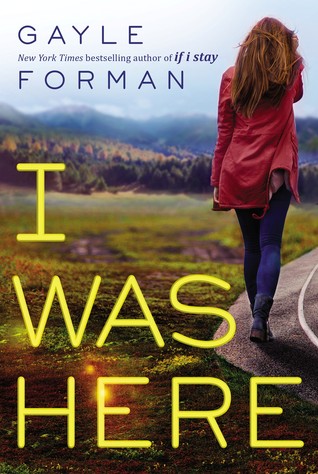 Cody and Meg were inseparable.
Two peas in a pod.
Until . . . they weren't anymore.
When her best friend Meg drinks a bottle of industrial-strength cleaner alone in a motel room, Cody is understandably shocked and devastated. She and Meg shared everything—so how was there no warning? But when Cody travels to Meg's college town to pack up the belongings left behind, she discovers that there's a lot that Meg never told her. About her old roommates, the sort of people Cody never would have met in her dead-end small town in Washington. About Ben McAllister, the boy with a guitar and a sneer, who broke Meg's heart. And about an encrypted computer file that Cody can't open—until she does, and suddenly everything Cody thought she knew about her best friend's death gets thrown into question.
I Was Here is Gayle Forman at her finest, a taut, emotional, and ultimately redemptive story about redefining the meaning of family and finding a way to move forward even in the face of unspeakable loss.
Fairest by Marissa Meyer
27th of January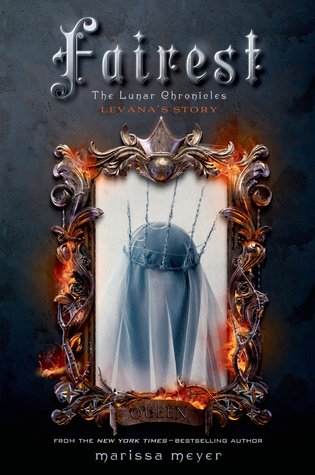 In this stunning bridge book between Cress and Winter in the bestselling Lunar Chronicles, Queen Levana's story is finally told.
Mirror, mirror on the wall,
Who is the fairest of them all?
Fans of the Lunar Chronicles know Queen Levana as a ruler who uses her "glamour" to gain power. But long before she crossed paths with Cinder, Scarlet, and Cress, Levana lived a very different story – a story that has never been told . . . until now.
Marissa Meyer spins yet another unforgettable tale about love and war, deceit and death. This extraordinary book includes full-colour art and an excerpt from Winter, the next book in the Lunar Chronicles series.