If you're tiring of Dystopia trends and are looking for some new book topics and trends, well I think 2015 will have something new to offer you.
Crimes and Cons
These books center on main characters who are on the wrong side of the law. They like to con, blackmail, steal and lie. Fans of Holly Black's Curse Worker series will defiantly enjoy these books.
Con Academy by Joe Schreiber
It's his senior year and Will Shea has conned his way into one of the country's most elite prep schools. But he soon runs into Andrea, a fellow con-artist. With the school not big enough for the both of them, they make a bet that whoever can con Brandt Rush, the richest, most privileged student in the school out of $50K, gets to stay at the school. Will starts setting up his con (an online poker scam) with his uncle who's one of the best grifters in the business, but also with the unwanted help of his father.. The plot thickens as Will starts falling for fellow student Gatsby, and some of Will's lies start to catch up with him. In this twisty tale of scams, secrets, lies and deception, it hard to figure out who's conning who!
Release Date: 4th August 2015
Hold Me Like a Breath by Tiffany Schmidt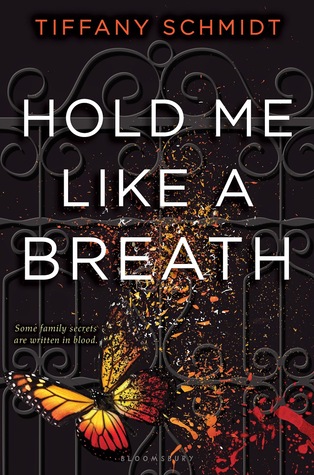 Penelope Landlow has grown up with the knowledge that almost anything can be bought or sold—including body parts. She's the daughter of one of the three crime families that control the black market for organ transplants.
Penelope's surrounded by all the suffocating privilege and protection her family can provide, but they can't protect her from the autoimmune disorder that causes her to bruise so easily.
And in her family's line of work no one can be safe forever.
All Penelope has ever wanted is freedom and independence. But when she's caught in the crossfire as rival families scramble for prominence, she learns that her wishes come with casualties, that betrayal hurts worse than bruises, that love is a risk worth taking . . . and maybe she's not as fragile as everyone thinks.
Release Date: 9th May 2015
Ya Retellings
Over the last few years, fairy tales and classic literary stories have been retold with a YA twist. This trend has gained some serious traction and will continue with in 2015.
Winter by Marissa Meyer
Winter is the fourth and final book in The Lunar Chronicles, and it will add the retelling of Snow White to the previous books that spun new tales around Cinderella, Little Red Riding Hood and Rapunzel. This is a must read series.
Release Date: 24th November 2015
Quirky and Moving
Finishing a book and feeling like the characters really existed is something truly magical and very moving. Quirky characters, outlandish situations and serious topics seem to abound in these upcoming releases.
Mosquitoland by David Arnold
"I am a collection of oddities, a circus of neurons and electrons: my heart is the ringmaster, my soul is the trapeze artist, and the world is my audience. It sounds strange because it is, and it is, because I am strange."
After the sudden collapse of her family, Mim Malone is dragged from her home in northern Ohio to the "wastelands" of Mississippi, where she lives in a medicated milieu with her dad and new stepmom. Before the dust has a chance to settle, she learns her mother is sick back in Cleveland.
So she ditches her new life and hops aboard a northbound Greyhound bus to her real home and her real mother, meeting a quirky cast of fellow travelers along the way. But when her thousand-mile journey takes a few turns she could never see coming, Mim must confront her own demons, redefining her notions of love, loyalty, and what it means to be sane.
Told in an unforgettable, kaleidoscopic voice, "Mosquitoland" is a modern American odyssey, as hilarious as it is heartbreaking.
Release Date: 3rd March 2015
I'll Meet You There by Heather Demetrios
If seventeen-year-old Skylar Evans were a typical Creek View girl, her future would involve a double-wide trailer, a baby on her hip, and the graveyard shift at Taco Bell. But after graduation, the only thing standing between straightedge Skylar and art school are three minimum-wage months of summer. Skylar can taste the freedom—that is, until her mother loses her job and everything starts coming apart. Torn between her dreams and the people she loves, Skylar realizes everything she's ever worked for is on the line.
Nineteen-year-old Josh Mitchell had a different ticket out of Creek View: the Marines. But after his leg is blown off in Afghanistan, he returns home, a shell of the cocksure boy he used to be. What brings Skylar and Josh together is working at the Paradise—a quirky motel off California's dusty Highway 99. Despite their differences, their shared isolation turns into an unexpected friendship and soon, something deeper.
Release Date: 3rd February 2015
Dealing With Loss
As a sort of next generation of "sick lit," the stories below deal with the loss of loved ones and how those left behind cope. YA fiction has never shied away from heavy topics, and I'm glad to see tough themes like suicide and death presented in these books.
I Was Here by Gayle Forman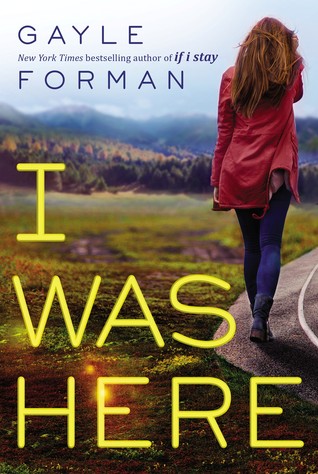 Cody and Meg were inseparable.
Two peas in a pod.
Until . . . they weren't anymore.
When her best friend Meg drinks a bottle of industrial-strength cleaner alone in a motel room, Cody is understandably shocked and devastated. She and Meg shared everything—so how was there no warning? But when Cody travels to Meg's college town to pack up the belongings left behind, she discovers that there's a lot that Meg never told her. About her old roommates, the sort of people Cody never would have met in her dead-end small town in Washington. About Ben McAllister, the boy with a guitar and a sneer, who broke Meg's heart. And about an encrypted computer file that Cody can't open—until she does, and suddenly everything Cody thought she knew about her best friend's death gets thrown into question.
I Was Here is Gayle Forman at her finest, a taut, emotional, and ultimately redemptive story about redefining the meaning of family and finding a way to move forward even in the face of unspeakable loss.
Release Date: 27th January 2015
The Last Time We Say Goodbye by Cynthia Hand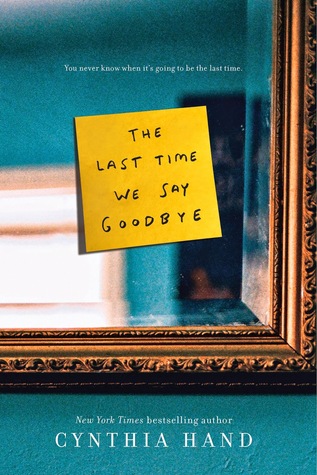 There's death all around us.
We just don't pay attention.
Until we do.
The last time Lex was happy, it was before. When she had a family that was whole. A boyfriend she loved. Friends who didn't look at her like she might break down at any moment.
Now she's just the girl whose brother killed himself. And it feels like that's all she'll ever be.
As Lex starts to put her life back together, she tries to block out what happened the night Tyler died. But there's a secret she hasn't told anyone-a text Tyler sent, that could have changed everything.
Lex's brother is gone. But Lex is about to discover that a ghost doesn't have to be real to keep you from moving on.
From New York Times bestselling author Cynthia Hand, The Last Time We Say Goodbye is a gorgeous and heart-wrenching story of love, loss, and letting go.
Release Date: 10th February 2015