FOUR: A DIVERGENT COLLECTION
by Veronica Roth
Published 8th July 2014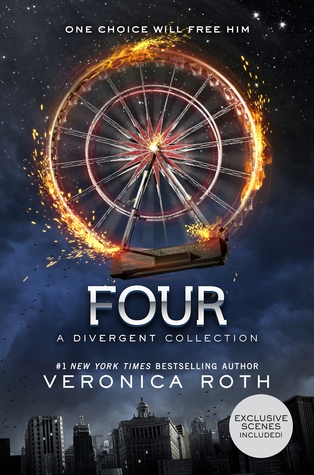 If you have read Veronica Roth's Epic Divergent Trilogy, Then you will want to get your hands on Four, A Divergent Collection. It is  five e-Book short stories from the Divergent trilogy told by Tobias's perspective.
According to Veronica Roth these stories serve as prequel to the Divergent trilogy, she said that "The e-shorts will address Tobias's backstory and some of the mysterious things going on in the world before Tris chose Dauntless, together, they form a kind of Tobias-centered Divergent prequel, though there is some overlap."
On her decision to write from the perspective of Four, Roth said that "In my mind, he has a distinct history and a complex psychology, so there's always a lot to draw from when he's on the page, and it's an opportunity for me to break from Tris's sparse, straightforward voice and try to introduce just a little bit more poetic language, I also know, from many tweets and blog comments and in-person comments, that Divergent readers are interested in hearing more of his voice, which made him an obvious candidate! My readers have given me so much enthusiasm and honesty and wisdom. The opportunity to write something that I knew they wanted to read was really appealing to me."
Free Four: Tobias Tells the Divergent Knife-Throwing Scene
It is the first story of the series and retells the events of chapter thirteen of Divergent. It was released on April 23, 2012
The Transfer
16 year old Tobias Eaton was born in Abnegation. His father Marcus Eaton is an Abnegation council member, who is abusive to him. He meets Tori, who administers his aptitude test. He chooses Dauntless as his faction at his choosing ceremony against his father's wishes. Later he meets Eric his fellow dauntless initiate and his instructor Amar. The latter also gives him the name Four, after finding out that he has only four fears. It was releases September 3, 2013.
The Initiate
The Initiate follows Four go through his Dauntless initiation stages. Going through his first tattoo and epic dare. His understanding of being Dauntless member and dangers of it and finally he finds his passion in training new initiates. It was released  July 8, 2014.
The Son
The Son follows Four a Dauntless member and instructor for non-Dauntless born initiates, tried to find his place in Dauntless society. He suspects that some foul planning is taking place within Dauntless leadership and also a discover a secret from his past which threatens his future. It was released on July 8, 2014.
The Traitor
The Traitor is set two years after the events of The Son, Four is starting to know Tris, a new transfer initiate from Abnegation. At the same time, he discovers Erudite's plan to attack and kill Abnegation members and makes plan to save them. It was released on July 8, 2014.